CAPTAIN RON'S
SPORTS FISHING CHARTERS
ABOARD

The Gambler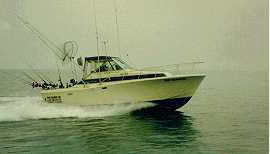 28' CHRIS CRAFT SPORTFISHERMAN
LAKE MICHIGAN CHARTERS
MICHIGAN CITY, IN
CAPTAIN RON MAGLIO
311 EAST MAPLE AVENUE, LA PORTE, IN 46350
1-800-655-FISH (3474)
219/324-2315
WASHINGTON PARK MARINA SLIP 707, MICHIGAN CITY, IN

I WOULD LIKE TO THANK EVERYONE FOR FISHING WITH CAPTAIN RON ON "THE GAMBLER" SINCE 1982. 1 AM STARTING MY 17TH YEAR OF CHARTERING AND MANY OF YOU HAVE BECOME FRIENDS FROM TIME SHARED ON THE LAKE. I AM HAPPY FOR THOSE TIMES AND HOPE THAT THEY WILL CONTINUE. IF YOU HAVE NOT BEEN FISHING LATELY, YOU KNOW WHAT YOU HAVE MISSED. I HOPE TO SEE ALL OF YOU IN THE UP COMING SEASON.
MAKE YOUR RESERVATIONS EARLY
THE LAST FEW YEARS, WEEKEND RESERVATION WENT EARLY, TO RESERVE THE BEST TIME, LET ME HEAR FROM YOU SOON.

A FEW WORDS ABOUT CAPTAIN RON
1997
3rd SEA RAY SALMON SLAM
5th TRI PORT CHALLENGE
1996
SEA RAY SALMON SLAM HOLLAND, Ml
LARGEST STEELHEAD
PRO DIVISION
1995
APRIL - CAPTAIN RON SOLD HIS BUSINESS OF 18 YEARS TO DEVOTE HIS TIME TO CHARTER FISHING
1994
MCCBA JACK PARRY MEMORIAL AWARD
MCCBA "CAPTAIN OF THE YEAR"
2nd PLACE HOOSIER COHO CLUB MINI TOURNAMENT
5th PLACE HOOSIER COHO CLUB CLASSIC TOURNAMENT
2nd PLACE STEELHEADERS OPEN
ST. JOSEPH, MI
1st PLACE CAPTAINS AWARD COHO
G-L-S-A SALMON DERBY
MCCBA BIG FISH LAKE TROUT 33#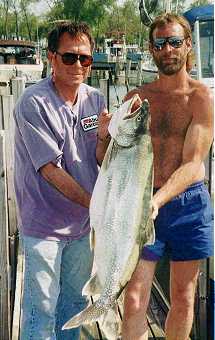 1991
1st PLACE STEELHEADERS OPEN
4TH PLACE HOOSIER COHO CLUB CLASSIC
1998
???????????????????????
COME CATCH THE BIG ONE

RATES

6HR. $75.00 -

PER PERSON

8 HR $90.00 - PER PERSON

3 Person minimum

SATURDAY OR SUNDAY $300.00 MINIMUM

$100.00 DEPOSIT

MICHIGAN CITY, INDIANA -

BEST FISHING HOLE IN THE STATE

HOTEL ACCOMMODATIONS BY REQUEST

CATCH CAPTAIN RON AT 1-800-655-FISH